HELLP Syndrome
My experience with Pre-eclampsia and HELLP Syndrome has inspired me to dedicate a few pages to it. So many people always ask 'what exactly is PIH/HELLP'. I too was one of those people before it happened to me.
In my research I have learned much and gained new acquaintances. Hopefully by sharing everyone will be aware. A HELLP WebRing has also been established to help guide people through others experiences.
A HELLP Syndrome Birth Stories page is now up and running. Currently there are several stories from mothers who expierenced HELLP Syndrome during their pregnancies. You can read a story or leave a story to be added.
Pre-Eclampsia, Toxemia, Hypertension & Pregnancy Induced Hypertension (PIH) are usually used interchangeably, so when reading if you come across the different terms think of them as the same thing. Because PIH and HELLP are usually closely related some symptoms, treatments and other issues are used interchangeably between the two.
I HIGHLY recommend that you contact the HELLP Syndrome Society & request from them the packet of information that they have available. Not only is this packet wonderful for those who have went through HELLP but also for Health Care Professionals who want to help find ways to help their patients deal with what has happened to them.
If you are looking for more information I have listed on my LINKS page several links to current articles on the net dealing with pre-eclampsia and HELLP.
In addition there is a mailing list out there dealing with HELLP. If you do a search on Onelist using HELLP you will find the list.
As with all advice that you receive please consult your Doctor or Primary Care Physician. Only you and your Doctor can accurately plan a course of action.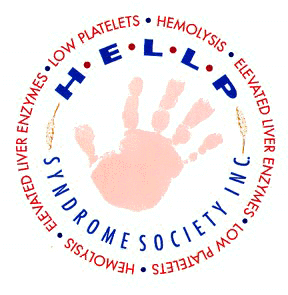 This HELLP Syndrome Ring site owned by Ami.
[ | Next Site | Skip Next Site | Next 5 Sites | Random Site |]
Want to join the ring? Click here for info.
The HELLP Logo is owned by the HELLP Syndrome Society