Hello, My name is Andrew and this is my preemie story. I had a bumpy start and you can read my Mom's Story if you want to. My story starts here. I came into this world at 4:47am on Thursday March 13, 1997 about 10 weeks before I should have been here. I weighed 2 pounds 8 ounces. My Apgars were 4 and 8. I needed to be recuscitated and was quickly placed on a ventilator at 100% Oxygen.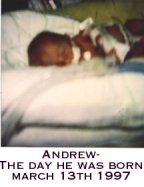 I made my family very happy when I came off of the vent after a day. I was still on the O2 though. At first I was on CPAP and then on an Oxygen Hood and then I graduated to a nasal cannula. I also had to be on a monitor because for a while there I was the Apnea and Bradycardia King, my Mommy just thought I liked to make the alarm sound!!!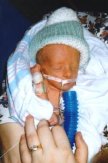 I also had a bought with a Meconium Ileus which is where I couldn't pass my baby poop. I almost ended up in surgery for it but they gave me an enema and well it all came out. I still had some problems after that. I kept having residual in my tummy after every feeding so they stopped my feedings for a while. They always seemed to think I had an infection of some kind (sepsis) or another and when they gave those big doses of antibiotics I'd get a really bad diaper rash. Sometimes they would just let my bum be au natural to help it get better.
Some of my problems were RDS, BPD, Hyperbilirubinanemia, Anemia, Apnea,Bradycardia, NEC and I also had that Meconium Ileus.
My biggest problem was the Anemia. The Docs think it caused my Apnea and Bradycardia spells. Sometimes I needed Help out of them. As well as my needing the Oxygen. My Parents were not open to a blood transfusion so the Docs started me on a treatment of shots to help my hematocrit level get back up.
I spent 47 days in the hospital NICU/PCN. First I was at Hutzel then I was transferred to Childrens then it was back to Hutzel. You should have seen the huge bag of frozen food (breastmilk) my Mommy had to carry back and forth!!!
I came home on O2, monitor and no drugs except Epogen injections which my mom gave me and vitamins. I weighed 4 pounds 6 ounces when I came home. After a month a came off of the Oxygen & the next month I *lost* my monitor.
Andrew passed hisROP & Hearing Assement Tests. But if he has eyes like my mom & dad he will need strong glasses anyways! He also had a negative on his cheek swab for Cystic Fibrosis.
February 98: Andrew is 11 months old!!!
Right before Andrew hit the 11 month mark, he ended up in the hospital again. This was his first hospitalization since coming home from the NICU. Andrew had severe Croup. After a few days of nebulizer treatments and a variety of other things he came home and recovered pretty well. Andrew is still around the 20 pound mark. He has 4 teeth & is almost standing completely on his own. He waves Bye-Bye and has a few words in his vocabulary and loves Grilled Cheese sandwiches!!!
March 13th, 1998
Andrew is 1 Year Old!!!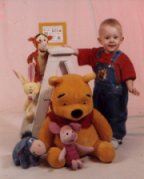 He hit the big 1 Year mark and we just can't believe it. At his 1 year Well Baby Visit, Andrew weighed in at 21 pounds. He got his 1 year immunizations & the Doc said all was well with our big boy!!!
March 13th, 1999
Andrew is 2 Years old!!!
Yup Andrew is officially a toddler now! He's 24 pounds now. He has all his teeth except for his second year molars. He has mastered walking for a long time know. He has also mastered stairs! These days Andrew still sleeps like a pro and has a typical toddler diet ;-)
Cars is one of Andrews biggest loves. He can hold his fingers up and say 2 if you ask him how old he is. He still loves grilled cheese sandwiches, cookies, cheese, milk, water and bananas. He only had 1 real sickness this past winter & that was 2 ear infections with bronchitis. Thankfully he recovered fast in the prime of RSV season. We haven't got him to say "I Love You" yet but he gives the best toddler kisses!
May 11th, 1999
Andrew has made great strides in the past few weeks! He's moved into his big boy bed without much fuss and a month after that he moved into he new room. Andrew had his 3rd official haircut yesterday is in a size 6 1/2-7 shoe and is wearing 2T-3T clothes!
August 1999
Andrew has done really well welcoming his new baby sister. Andy has had a big summer swimming and playing outside. He has developed a typical toddler diet of not wanting to eat much & refuses to try new things...
At his (belayed) 2 year check up in July he weighed 26 pounds and was pronounced healthy ;-) While Andy still likes Blues Clues his new favorite is Rugrats. Potty training is just around the corner and judging from his diapers these days it's about time!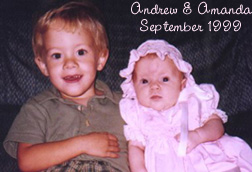 August 2000
Andrew is still doing very well! He's a whopping 30 pounds now. Does all the boy things. Likes 'big trucks' and digging in the dirt. He plays well with his sister...sometimes...
Still big problems on the potty training front but we are working on it :-)

March 2003
Andrew is 6!!!
Updates can mainly be seen now through the current pictures!
Andrew is doing very well. He is in Kindegarten and is doing awesome.
Favorite cartoons now are Transformers and Spongebob! My how time goes by!
His diet is the same as it was at 2 years of age!